Shellpaw
Affiliations
Current
RiverClan
Names
Kit
Apprentice
Shellkit
Shellpaw
Life
Age
Approx. 6 moons (0.5 years)
Status
Living
Debut
RiverClan Archive I
Family
Father
Unknown tom
Mother
Beechcloud
Siblings
None
Mate
None
Kits
None
Education
Mentor
Salmonclaw
Roleplay
Owner
Beau
Shellpaw is a brown tabby and white she-cat with blue-green eyes.
Description
Appearance
Shellpaw is a small she-cat that is lean and finely-toned. From the day she was old enough to train, Shellpaw has shown fierce dedication to being as fit and as strong as possible for her Clan. However, she appears to lack the intimidating height that would only compliment her strength and fierce nature. The she-cat has a solid body and is shown to have some wear and tear evident. The most noticeable scar she has is a thick cluster near her hip that stretches around from her hip to her underside. Many are unclear to how she got said scar and it doesn't help that Shellpaw herself doesn't remember receiving it (which is probably a good thing).
The she-cat has a brown tabby coat that while being primarily quite dark it has lighter patches. These patches correlate to her underside however, it does look like she has 'ginger' patches near her throat but they ain't. Shellpaw also has white spotting on her muzzle, chest, front legs, and back paws. Her stripes are thick mackerel tabby stripes and do appear to fade near her underside. She has lovely, blue-green eyes that share many shades that are seen in the river of her home.
Character
Coming Soon
Abilities
Coming Soon
Biography
Roleplay
Coming Soon
Lineage
Mother:
Beechcloud: Deceased; StarClan resident
Relationships
Family
Coming Soon
Peers
Coming Soon
Quotes
Coming Soon
Trivia
plot: forbidden relationship
Images
Life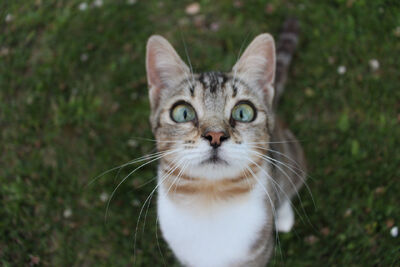 Pixels
Please do not edit this gallery without permission from the role-player